Cellutron has developed a novel inducible expression system with Cre-Loxp technology and provided the ability to regulate transgene expression. This system contains two expression vectors with a strong CAG promoter for high-efficient gene expression. pEGFP/RFP-miRNA-BL and pEGFP/RFP-T2A-GOI-BL are expression vectors with EGFP and 3X termination sequences flanked by two loxP sites, followed by a co-cistronic sequence for expression of RFP and miRNA or protein-coding transgenes. In addition, there is a blasticidin (BL) expression cassette (for drug selection in the mammalian cells) cloned at the downstream of the expression cassette for the miRNA and protein-coding transgene. pCreER-IRES-Puro is needed for co-transfection with the inducible expression vector. It expresses a 4-hydroxytamoxifen (4-OHT)-activated form of Cre recombinase and also confers puromycin-resistance for drug selection.
After co-transfection the system initially expresses only EGFP, a reporter protein for conveniently monitoring the transfection efficiency. 4-OHT can be added in vitro and in vivo to activate the conditionally active form of Cre recombinase, leading to high-level and regulated expression of miRNAs or protein-coding transgenes.
The inducible expression system allows you to:
1. Transfect with high efficiency in dividing and non-diving cells, including adult and embryonic stem cells and iPS cells.
2. Conditionally express miRNAs or protein-coding transgenes in vivo and in vitro.
3. Generate stable cell lines for long-term expression of miRNAs or protein-coding transgenes.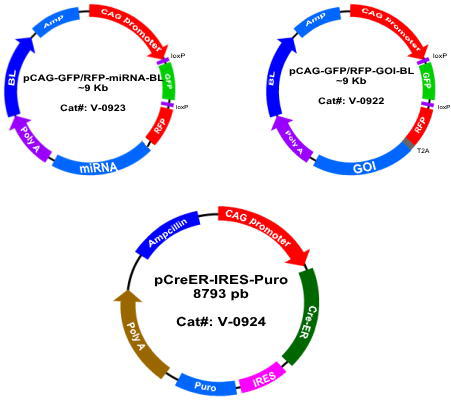 pCrer-IRES-Puro expression vector is used for co-transfection
- 4OHT

+ 4OHT

This system expressed EGFP initially and, after 4-OHT treatment, a conditionally active form of Cre recombinase was activated and catalyzed the site-specific recombination by crossover between the two loxP sites, resulting in excision of "floxed" EGFP and the termination sequence and allowing expression of RFP and miRNA or protein-coding transgene.
RT-PCR Analysis for Inducible miRNA Expression in Cells
Cells were cotransfected with pEGFP/RFP-miR-1-BL
and pCreER-IRES-Puro and treated with 4-OHT 48 hours after transfection.

4OHT (4-hydroxytamoxifen) Treatment for miRNA Expression

For in vivo injection, 4OHT (Sigma, St. Louis, MO) is dissolved in ethanol at a concentration of 20 mg/ml and then diluted with 9 volumes of corn oil (Sigma). Diluted 4OHT (2 mg/ml) is i.p. injected (500 µl per animal) into the animals with a 26-gage needle.

For cultured cells, 4OHT diluted in ethanol (0.39 mg/ml) is directly added to the cell culture media (final concentration: 1-2 µM = 0.39-0.78 µg/ml).